Governance & Risk Management , Privacy
Guess Who's Running for President? John McAfee
'Eccentric Millionaire' Forms 'Cyber Party' to Focus on Security, Privacy Issues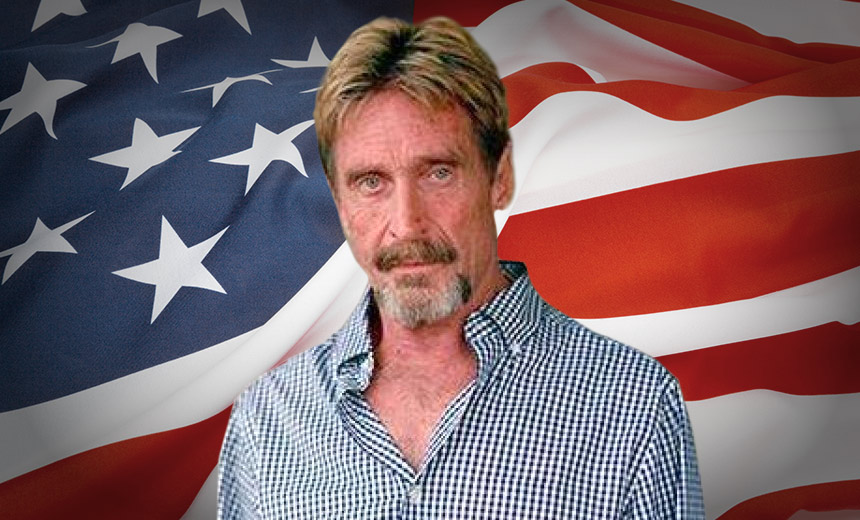 Just when it seemed like the 2016 U.S. presidential elections couldn't get any more bizarre, now there's a bold new contender in town: John McAfee, who's entering the race as the head of his own, newly created "Cyber Party."
See Also: Fog of War | How the Ukraine Conflict Transformed the Cyber Threat Landscape
The self-described "eccentric millionaire" and founder of the anti-virus product bearing his name - and to which he now has no affiliation - announced his candidacy on Twitter, launched a website and christened the "#mcafee16" hashtag. McAfee also filed Form 2 - which is required to register as a 2016 presidential candidate - with the Federal Election Commission on Sept. 8.
McAfee says his campaign platform will touch on information security, privacy and surveillance. "We are losing privacy at an alarming rate - we have none left. We've given up so much for the illusion of security and our government is simply dysfunctional," he tells CNN.
McAfee also promises that he is in the race to win. "I have a huge underground following on the Web," he says. "I promise you I will win because I have the votes."
John McAfee announces his presidential candidacy.
Life After Belize
McAfee catapulted into the limelight in late 2012 during his well-documented escape from Belize after claiming that authorities in the country had been attempting to frame him for a murder he did not commit. McAfee was thereafter arrested in Guatemala for illegally entering the country and deported to the United States, where he reportedly resided for a time in Portland and later decamped to Montreal.
At least two movies about McAfee's life are reportedly in the works, as is a television documentary series about his life.
Just last month, however, McAfee reported via his Facebook page that he had been arrested in Tennessee for driving while under the influence of Xanax, which is used to treat anxiety disorders, as well as gun offenses. McAfee blamed his doctor for not warning him that he shouldn't drive while taking the prescription drug, and claimed to have been involved in a shootout with the Tennessee Highway Patrol prior to his arrest:
"The shootout with the police was highly exaggerated and in fact no one was even hit by a bullet, let alone harmed by one. The police knew me and I don't believe their hearts were truly in the shootout, as it is not included in the official report. When I ran out of ammunition, I surrendered quietly and the officers and my self had a cigarette together and joked about my bad aim."
Later, however, McAfee said the shootout claim had just been a joke.
On a related note, McAfee tells CNN that one of his campaign promises is that he will answer any question posed to him about his "checkered background."
McAfee's move to enter the presidential fray, while arguably not the strangest thing he's ever done - based on public information - does amp up an already unusual race. For starters, Hillary Clinton - who polls say is the current Democratic frontrunner - continues to battle questions about her use of a private email server while she served as Secretary of State, in what may be the first time that information security questions have had any bearing on a presidential race. Meanwhile, there are at least 17 candidates for the Republican nomination, with polls reporting that the frontrunner is Donald Trump, who's distinguished from his rivals by not only being a reality television star, but also boasting a Twitter channel devoted solely to his hair.
Unfortunately not. @realDonaldTrump and I are one. Inseparable. Partners in style and awesomeness. https://t.co/Eh0Ed1BZsP

� Donald Trump's Hair (@TrumpsHair) September 9, 2015
Will Presidential Contenders Debate 'Cyber'?
McAfee has also been refreshingly deferential about both Clinton and Trump. He tells CNN that both are "very smart," dismisses Clinton's email troubles - "who hasn't made a mistake?" - and says Trump was formerly the most promising presidential candidate.
"If I didn't enter, he would've won," McAfee tells CNN.
But whatever the result of his run, it remains to be seen whether issues of cybersecurity, as well as privacy and surveillance, will become topics that U.S. presidential contenders must now not just come to understand, but debate. Then again, as McAfee's move to become the Leader of the Free World shows, when it comes to U.S. politics, it seems like anything can happen - and already has.