Governance & Risk Management , Privacy
Ecuador Kiboshes WikiLeaks Leader's Internet Connection
'Temporary Restriction' Follows Julian Assange's U.S. Election Interference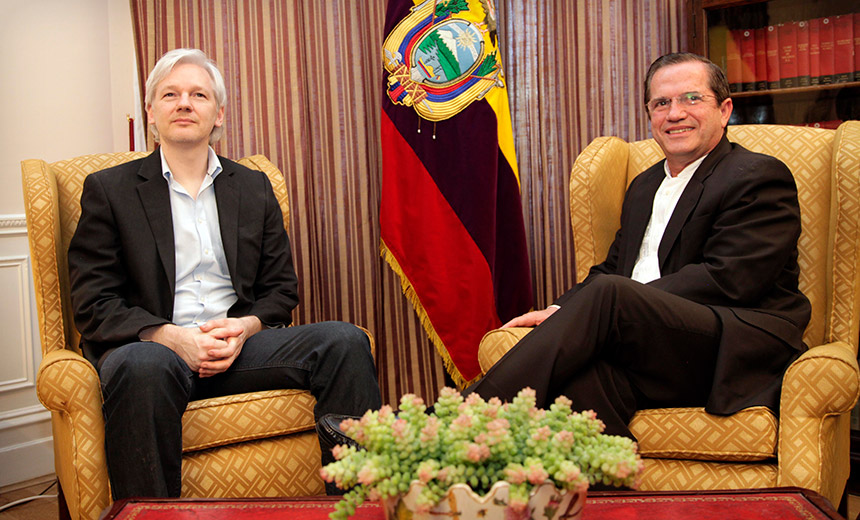 What does the world's self-proclaimed leaker in chief do when his internet connection gets severed? Maybe he can put his feet up, read a few thrillers and take up knitting?
See Also: Threat Horizons Report
That seems the perilous prospect now facing Julian Assange, the Australian founder of WikiLeaks, which bills itself as an international non-profit journalistic organization focused on publishing secret information.
"We all deserve privacy."
WikiLeaks announced Oct. 17 that Assange's internet connection had been cut Oct. 15, after the organization published what appeared to be transcripts of three speeches delivered by Democratic presidential candidate Hillary Clinton to financial services firm Goldman Sachs. The speeches were delivered after Clinton retired from her role as Secretary of State in 2013 and before she began her presidential campaign in 2015, and appeared to have been stolen from Clinton campaign chairman John Podesta's email account, CNN reports.
WikiLeaks blamed "a state party" for Assange's sudden internet outage. "We have activated the appropriate contingency plans," it added, without elaborating on what that cloak-and-dagger statement was supposed to mean.
Julian Assange's internet link has been intentionally severed by a state party. We have activated the appropriate contingency plans.

— WikiLeaks (@wikileaks) October 17, 2016
Timeout for Political Inference
On Oct. 18, however, the government of Ecuador, which earlier granted Assange asylum in its London embassy, announced that it was the state party in question, and emphasized that WikiLeaks' leaks have been entirely the organization's own doing.
"Ecuador has exercised its sovereign right to temporarily restrict access to some of its private communications network within its embassy in the United Kingdom," according to an official communiqué issued by the Ecuadorian government. "This temporary restriction does not prevent the WikiLeaks organization from carrying out its journalistic activities."
The statement adds: "The Government of Ecuador respects the principle of non-intervention in the internal affairs of other states. It does not interfere in external electoral processes, nor does it favor any particular candidate."
Despite the temporary restriction, Ecuador says that it will continue to offer asylum to Assange and "safeguard his life and physical integrity until he reaches a safe place."
Official Communiqué | Ecuador respects the principle of non-intervention in the internal affairs of other states https://t.co/4F7R5Iktsd pic.twitter.com/5FtbLViMEo

— Foreign Affairs Ec (@MFAEcuador) October 18, 2016
The move follows WikiLeaks having been accused by some security experts of acting as a propaganda arm for the Russian government. The organization was explicitly cited by the U.S. Department Of Homeland Security and Office of the Director of National Intelligence earlier this month when it blamed the Russian government for attempting "to interfere with the U.S. election process" via "the recent disclosures of alleged hacked e-mails on sites like DCLeaks.com and WikiLeaks and by the Guccifer 2.0 online persona" (see U.S. Government Accuses Russia of Election Hacking).
WikiLeaks, meanwhile, alleges that Ecuador severed Assange's internet access under pressure from the U.S. government, saying Secretary of State John Kerry made a related request while in Colombia last month with Ecuadorean President Rafael Correa, during a show of unity over the country's peace deal with leftist rebels, The Associated Press reports.
The State Department, however, has denied those allegations. "While our concerns about WikiLeaks are longstanding, any suggestion that Secretary Kerry or the State Department were involved in shutting down WikiLeaks is false," U.S. State Department spokesman John Kirby tells The Associated Press. It adds that deputy spokesman Mark Toner reports that Kerry neither mentioned the issue nor met with Correa during his Colombian visit.
A History of Leaks
Founded in 2006, WikiLeaks earned plaudits from many quarters in 2010 when it published a chilling, classified U.S. Army video of an Apache helicopter crew in Baghdad, leaked by Chelsea Manning. The video shows the gunship firing on and killing 11 adults - including two Reuters reporters - and seriously injuring others, including two children. Later that year, meanwhile, as part of "Cablegate," the organization leaked an archive of 251,287 sensitive U.S. State Department cables.
In June 2012, facing questioning by Swedish prosecutors over a sexual-assault allegation - which he denies - Assange entered the Ecuadorian embassy in London and requested asylum, which the Ecuadorian government granted two months later. He's been in the embassy ever since, and WikiLeaks has continued to leak documents.
More recently, however, the group has come under fire for appearing to take sides in the U.S. presidential election, with Assange regularly voicing antipathy for Clinton - as he has in the past - and WikiLeaks releasing stolen Democratic National Committee emails.
Those moves prompted allegations that WikiLeaks has been acting on behalf of Russian intelligence, as encapsulated in a front-page feature in The New York Times titled: "How Russia Often Benefits When Julian Assange Reveals the West's Secrets."
WikiLeaks, however, dismissed that report and similar allegations as "conspiracy theory," including allegations that it avoids criticizing the Russian government. "WikiLeaks has published more than 650,000 documents about Russia & president Putin, most of which is critical," it said.
Privacy Backlash
But the value of some of the group's leaks has regularly been called into question, such as a recently leaked email exchange between Clinton's campaign chairman, Podesta, and Center for American Progress president Neera Tanden. In the alleged exchange, both criticize attorney and activist Lawrence Lessig, a Harvard University professor who was also briefly a candidate for the Democratic presidential nomination.
Following the leak and airing of Podesta and Tanden's alleged criticism of him, Lessig issued a classy response. "I'm a big believer in leaks for the public interest. That's why I support Snowden, and why I believe the President should pardon him. But I can't for the life of me see the public good in a leak like this - at least one that reveals no crime or violation of any important public policy," he said.
"We all deserve privacy," Lessig added. "The burdens of public service are insane enough without the perpetual threat that every thought shared with a friend becomes Twitter fodder."
This piece has been updated to detail the WikiLeaks allegations against Secretary of State John Kerry.