Black Hat , Events , Governance & Risk Management
Black Hat Europe 2015: Visual Journal
Highlights From the Amsterdam Information Security Conference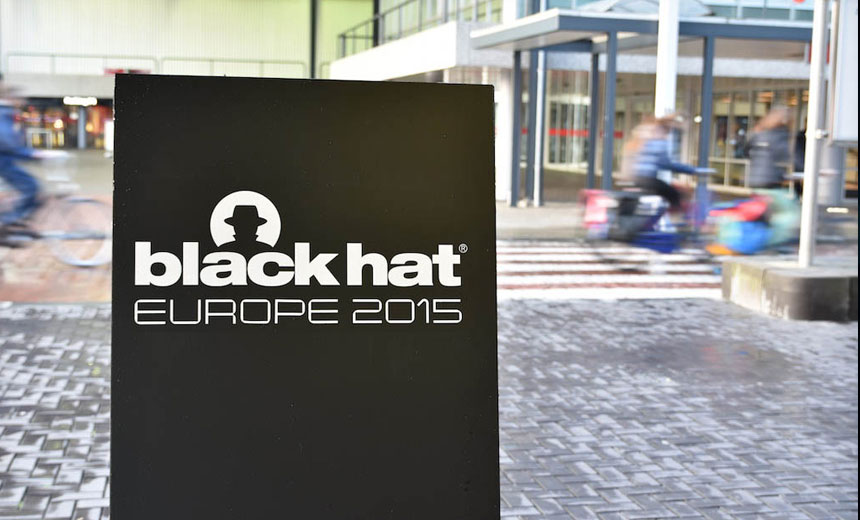 The annual Black Hat Europe conference this year once again brought together numerous information security aficionados in Amsterdam for the latest training and security insights.
See Also: Live Webinar | Cyber Resilience: Recovering from a Ransomware Attack
As in previous years, the agenda didn't disappoint, with dozens of sessions detailing the latest trends in malware, vulnerabilities, cybercrime, regulations and all things information security (see Hot Sessions: Black Hat 2015).
Here are some visual highlights from the conference:
All Roads Lead to Black Hat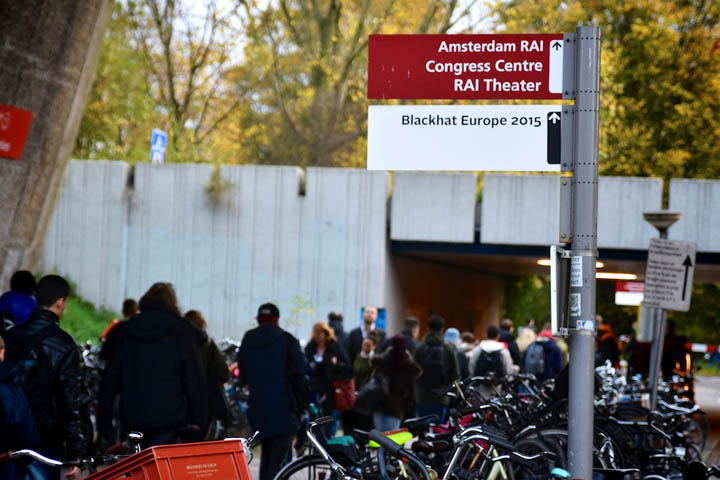 The Amsterdam RAI conference center featured good transportation links.
Black Hat Europe was held at the Amsterdam RAI, a conference center located south of the city center. While the venue had good transportation links, it lacked the typical Black Hat vibe of having a vibrant surrounding neighborhood or abundance of nearby locations for attendees to mix, after hours.
Conference at a Glance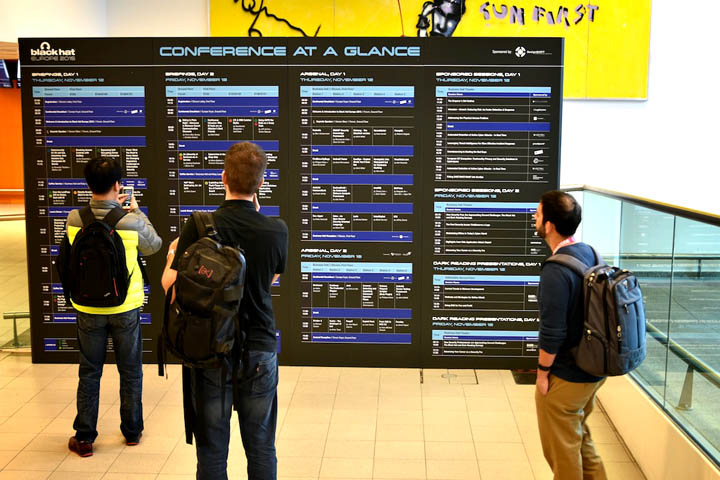 Decisions, decisions.
The conference briefings featured 63 speakers delivering 40 different sessions over a two-day period.
Launching Black Hat Europe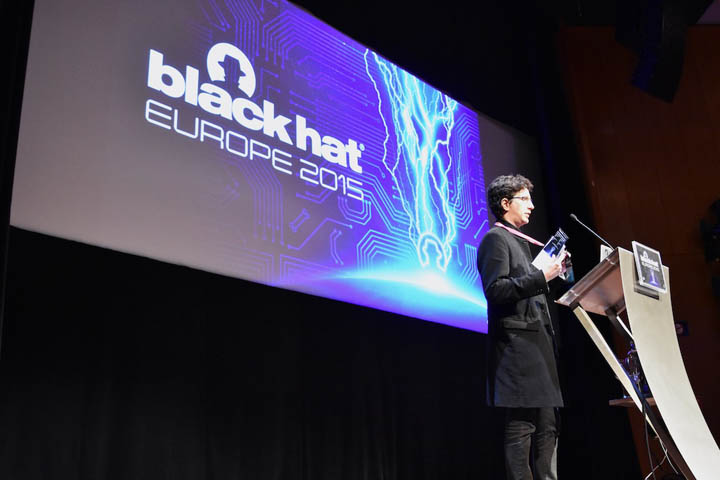 Jeff Moss warms up the crowd on a Thursday morning.
Black Hat founder Jeff Moss kicked off the conference briefings. All told, more than 1,500 attendees flocked to the conference, setting a Black Hat Europe record.
Self-Help for Security Pros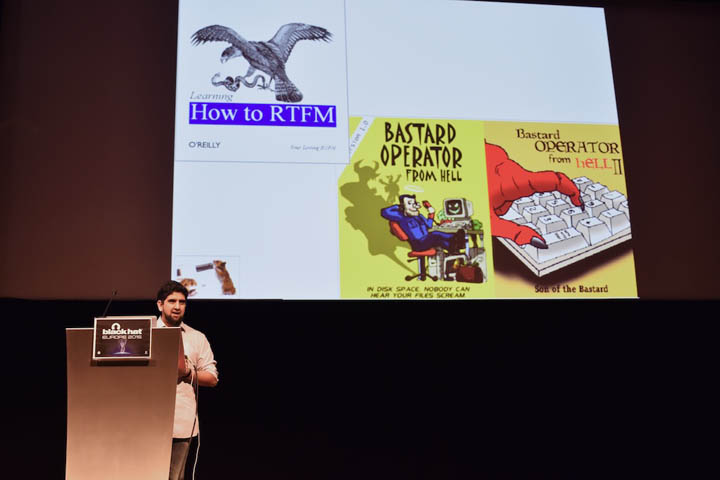 Security professionals are quick to pass judgment on the non-infosec-aware.
Thinkst founder Haroon Meer keynoted the conference - to a packed auditorium - with a presentation titled "What Got Us Here Won't Get Us There," riffing on the title of Marshall Goldsmith's business best-seller (see 5 Secrets to Security Success).
Bet on Black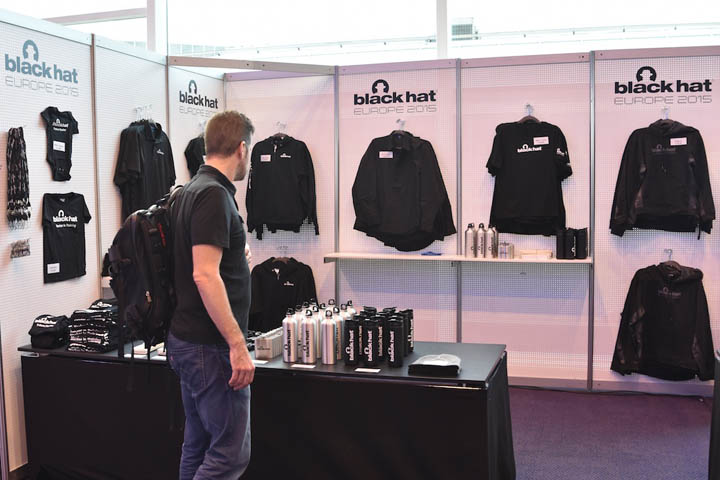 Discerning attendees had a chance to round out their wardrobe.
The Black Hat brand continues to be going strong, 18 years after it was founded by Jeff Moss, who's now the conference chair of the Black Hat review board.
Memes to the Max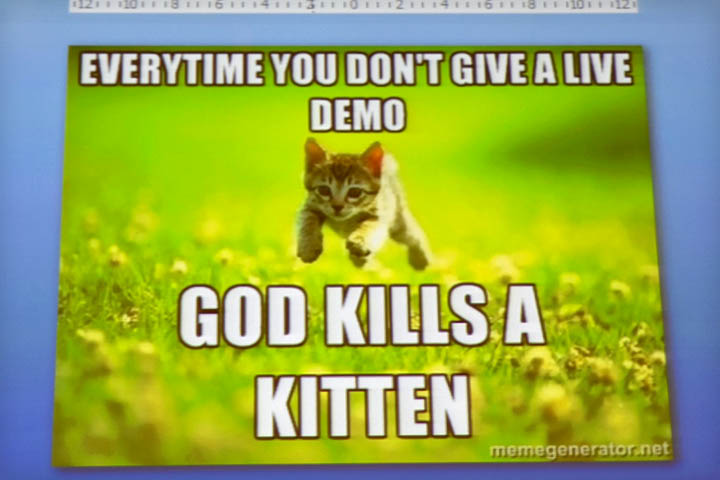 The Black Hat zeitgeist distilled into a single slide.
By and large, the Black Hat Europe briefings shared two things in common: live demonstrations of all flaws the researchers had found, and an abundance of slides starring kittens.
Second Try Perfect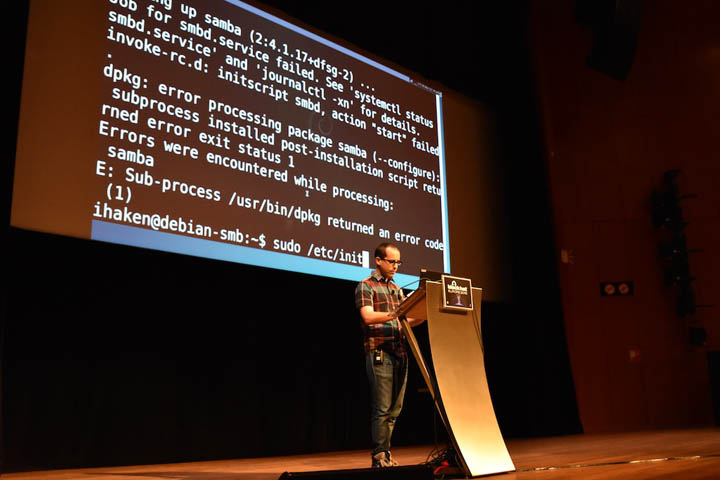 Not all demonstrations immediately went to plan.
But as is typical for a technology conference, not all of the live demonstrations succeeded the first time. The second time, however, was the charm for Ian Haken, a security researcher at software development product vendor Coverity, who demonstrated how the software-based BitLocker encryption feature built into Windows can be bypassed, receiving a round of applause from the audience in return. After receiving a pre-conference heads-up on the flaw from Haken, Microsoft earlier this month issued a related security update to patch the related flaw in all versions of Windows (see 5 Vulnerability Warnings).
Spanish Yoga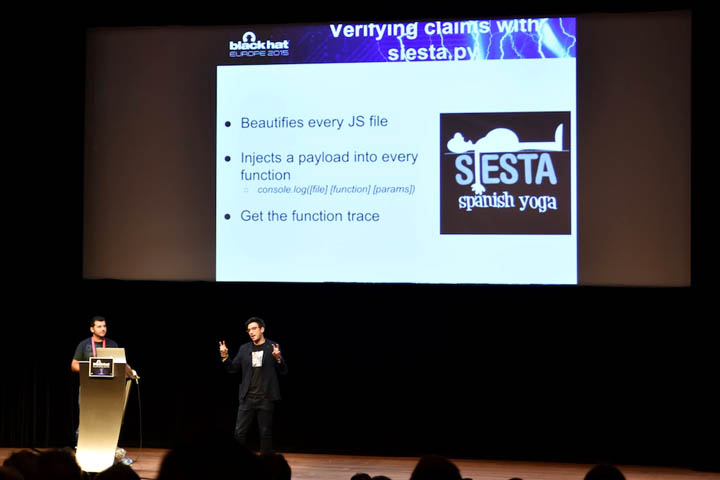 "Como se dice 'yoga' en español?"
The briefings featured not just detailed technical analyses and tear-downs of newly discovered flaws, but also the opportunity for cultural appreciation, for example in this talk about flaws in password management system LastPass - now patched - that were discovered by Spanish Salesforce.com engineers Martin Vigo and Alberto Garcia Illera.
Business Hall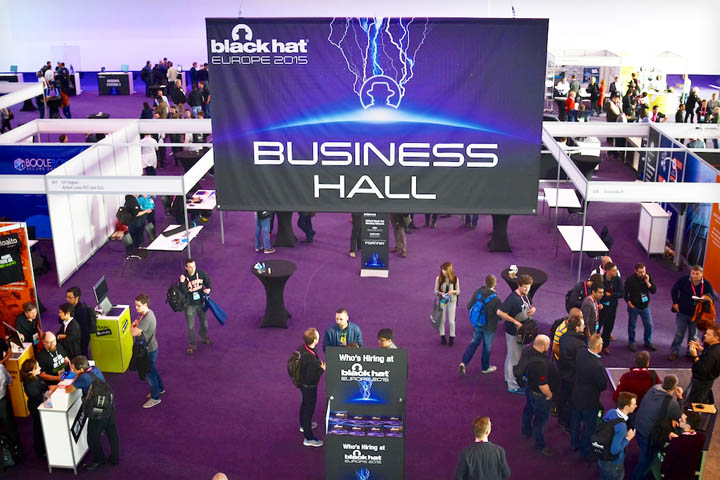 Come for the demos, leave with the swag.
The Black Hat Europe Business Hall featured more than 30 companies demonstrating their technologies and solutions, plus a networking lounge, career-seeking station and technology briefings.
Black Hat Europe Reception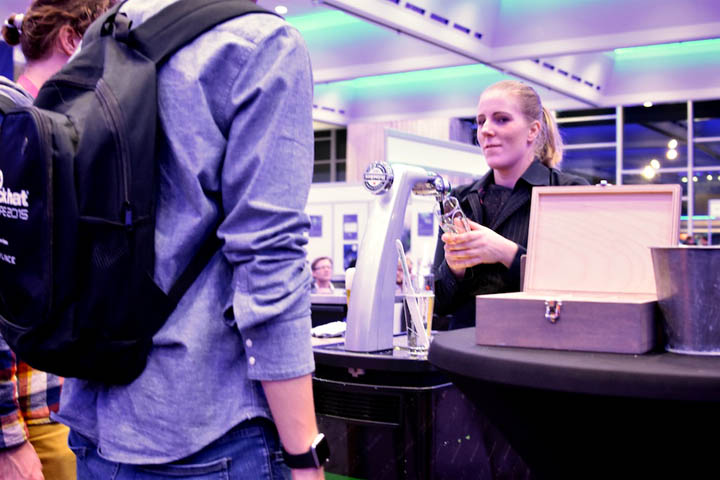 Free beer for all attendees.
The first day of briefings culminated in a reception - featuring Dutch Heineken beer on draught - in the Black Hat Europe Business Hall.
'Locknote' Closes Conference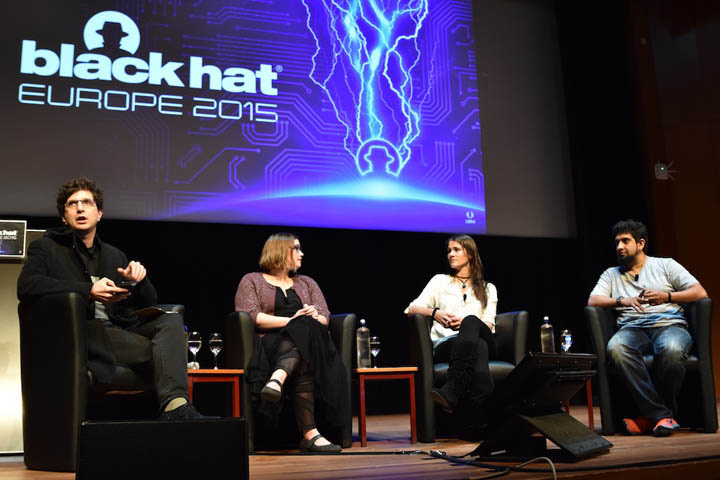 The locknote featured - from left - Jeff Moss, Jennifer Savage, Marion Marschalek and Haroon Meer.
The conference-ending "locknote" - as in the opposite to the kick-off keynote - featured Black Hat and DEF CON founder Jeff Moss, who's a member of the U.S. Department of Homeland Security Advisory Council; Cyphort malware analyst Marion Marschalek; independent security consultant Jennifer Savage; and Thinkst founder and conference keynoter Haroon Meer discussing some top takeaways from the conference.
All four, notably, are on one or more of the review boards that decide which researchers will present at each of the Black Hat conferences around the world. And one of the big surprises in recent years, they seemed to agree, was the fact that the safest approach to computing today now seems to be - in Meer's words - "a general-purpose computer in a walled garden talking to a proprietary Web service," meaning iOS devices.
Goodbye, Amsterdam RAI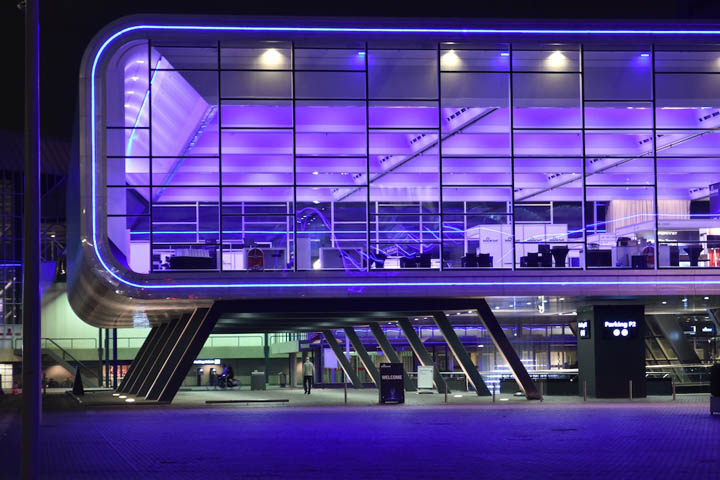 Next year's conference decamps from the Amsterdam RAI to a London location.
The year ended on a slightly bittersweet note, however, as Moss reported that the conference - which decamped from the atmospheric Grand Hotel Krasnapolsky in central Amsterdam two years ago, seeking more space - has now outgrown the RAI. Truth be told, the out-of-center venue also feels remote, and lacks the immediacy of the previous location.
Hence next year, Black Hat Europe will reconvene in early November in a to-be-disclosed London location that the organizers promise is both fun and plugged into a local neighborhood, thus offering more opportunities for attendees to mingle outside conference hours. And after London, they said, who knows where in Europe next?
(Photos: Mathew J. Schwartz)
Additional Summit Insight:
Hear from more industry influencers, earn CPE credits, and network with leaders of technology at our global events. Learn more at our Fraud & Breach Prevention Events site.