Cloud Security , Open XDR , Security Operations
Why a Wiz-SentinelOne Deal Makes Sense, and Why It Might Not
Despite the Financial Hurdles, the Perks of Building a CNAPP-XDR Platform Are Clear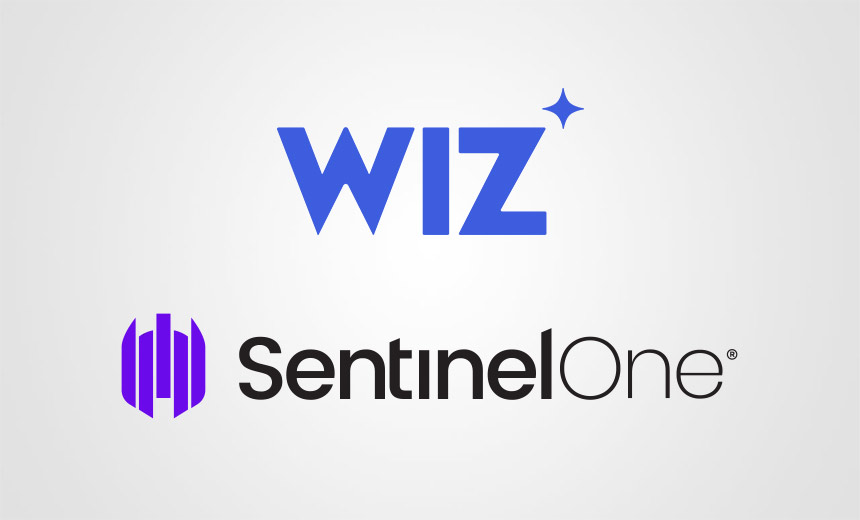 Venture-backed Wiz swallowing up publicly traded SentinelOne would be one of the most unorthodox and surprising acquisitions the cybersecurity industry has ever seen.
See Also: Threat Horizons Report
For starters, the deal means a startup founded just 43 months ago would need to digest an established, decade-old vendor with more than double its headcount and triple its annual recurring revenue. The transaction would rival Okta's $6.5 billion purchase of Auth0 in May 2021 as the biggest acquisition ever consummated by a pure-play cybersecurity vendor and would require Wiz to secure outside financing.
But despite the significant financial hurdles, the potential technology synergies are obvious. SentinelOne is the industry's second-fastest-growing endpoint security vendor behind only Microsoft, IDC found, with an 84.5% sales bump in 2022. Wiz, meanwhile, is the most valuable venture-backed security company in the world thanks to its robust cloud-native application protection platform and enterprise client base (see: Wiz Raises $300M on $10B Valuation to Safeguard Cloud Data).
A Wiz spokesperson told Information Security Media Group the company "has openly discussed the possibility of acquisition," adding that Wiz has been following SentinelOne's "growth journey for the past several years" given the company's "strong cybersecurity offering." SentinelOne didn't respond to ISMG's request for comment. News of Wiz's interest in SentinelOne was first reported by Bloomberg.
The Power of Single-Vendor CNAPP, XDR
Combining Wiz - which earned a $10 billion valuation in February - and SentinelOne - which is reportedly unwilling to consider offers for less than $6 billion - would create one of the world's most valuable pure-play cyber vendors. Only Palo Alto Networks, Fortinet and CrowdStrike would have market caps greatly exceeding Wiz-SentinelOne, which would likely receive a valuation in line with Zscaler or Check Point.
Wiz will likely face stiff competition in its pursuit of SentinelOne from both private equity firms as well as from some of the industry's leading cybersecurity vendors, who'd rather not compete against a joint Wiz-SentinelOne offering. Leading XDR vendors such as Microsoft and CrowdStrike and leading CNAPP firms such as Palo Alto Networks all have deeper pockets than Wiz and could throw a monkey wrench into their plans.
The most comprehensive XDR and CNAPP platform today likely comes from Palo Alto Networks, which in 2022 enjoyed 61.5% growth in endpoint security sales and 58.4% growth in its cloud workload security business. The company built its Prisma Cloud platform via M&A and was named by Forrester as a strong XDR performer behind only Trend Micro and Microsoft. But Wiz-SentinelOne would be a formidable foe.
The benefits of bringing industry-leading XDR and CNAPP together via acquisition was first recognized by SentinelOne, which reportedly engaged in advanced negotiations with Orca Security in late 2021 around a $2.5 billion purchase, Calcalist reported. But the deal fell apart due to a massive drop in SentinelOne's stock price, with the firm's stock today trading nearly 80% below its all-time high of $76.30 per share.
From Record IPO to Seeking a Buyer
The economic downturn has walloped high growth but highly unprofitable companies such as SentinelOne, which in June laid off 100 workers after a significant drop in data usage for products with consumption-based pricing caused revenue to fall short of expectations. As a result, Reuters reported SentinelOne has directed Qatalyst Partners to find a buyer just two years after emerging from the biggest IPO in cybersecurity history (see: SentinelOne Lays Off 5% of Staff as Data Consumption Tumbles).
SentinelOne experienced significant brain drain in its C-suite as its stock performance faltered. President Nicholas Warner resigned in November after spending nearly five and a half years with the company, and Chief Marketing Officer Daniel Bernard and Chief Product Officer Raj Rajamani joined top rival CrowdStrike in January after each spending five years at SentinelOne. Getting acquired would only accelerate turnover.
A financial buyer such as Thoma Bravo might leave key executives such as co-founder, president and CEO Tomer Weingarten, 40, and Chief Financial Officer David Bernhardt, 48, in place, while a strategic buyer such as Wiz would likely drive further housecleaning to avoid duplication of C-suite roles. Bloomberg reported Wiz has approached bankers to discuss the possibility of acquiring SentinelOne but hasn't yet hired one.
SentinelOne's fate ultimately rests in the hands of the company's largest investors: private equity firm Insight Partners, venture capital firm Redpoint Ventures and Weingarten, which control 47.66%, 22.89% and 13.03% of the company's shares, respectively. Insight Partners also co-led Wiz's $250 million Fall 2021 Series C funding round alongside investment firm Greenoaks, which yielded a $6 billion valuation.
Many observers and competitors in this space are no doubt closely watching to see whether Insight's pull inside both SentinelOne and Wiz will be enough to carry this acquisition across the finish line.