Cryptocurrency Fraud , Cybercrime , Fraud Management & Cybercrime
Bitcoin Exchange Operator Sentenced to 5 Years in Prison
Russian National Alexander Vinnik Found Guilty of Money Laundering in France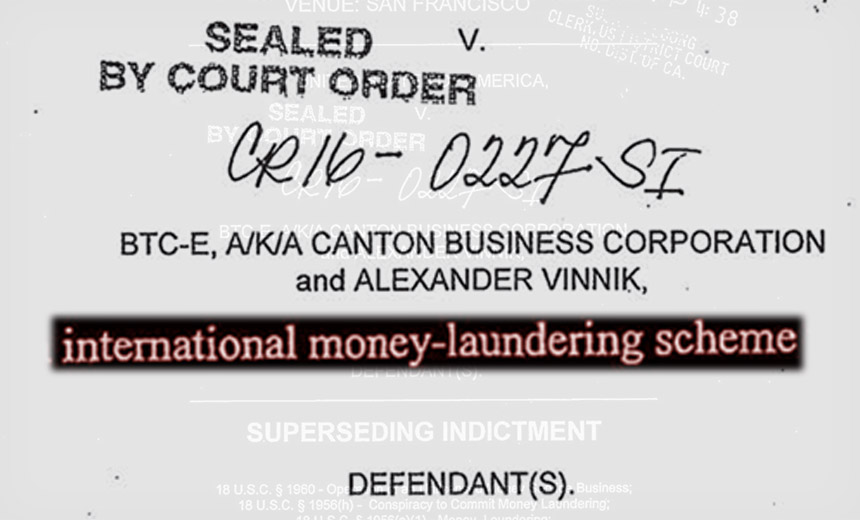 Alexander Vinnik, a Russian national who founded the now-defunct BTC-e cryptocurrency exchange, was found guilty Monday of money laundering in France. He's been sentenced to serve five years in prison and must pay a fine of 100,000 euros ($120,000).
See Also: Now OnDemand | C-Suite Round-up: Connecting the Dots Between OT and Identity
While the French court found Vinnik guilty on the money laundering charge, a judge cleared the 41-year-old of additional charges of extortion and association with a criminal enterprise, the Associated Press reports.
Throughout the trial against him, Vinnik continually maintained his innocence, and his attorneys in France are reportedly planning to appeal Monday's sentence.
In 2017, French authorities accused Vinnik of defrauding individuals worldwide, including about 100 victims in France, as well as using the e-BTC bitcoin exchange to launder over 20,000 bitcoins worth about 133 million euros ($155 million) at the time (see: Greece Will Send Russian Cybercrime Suspect to France).
French prosecutors also accused Vinnik of helping to develop Locky ransomware, which first appeared in 2016. Locky was one of the first types of malware that, rather than just locking a victim's screen and demanding a payment to restore access, instead forcibly encrypted the victim's hard drives and demanded a ransom in exchange for a decryption tool.
But the French judge found that Vinnik was not guilty of the charges tied to Locky, the AP reports.
In 2017, Vinnik was arrested in Greece and extradited to France, despite competing extradition requests from the U.S. and Russia. Since his arrest, Vinnik has maintained that he only served as a technical consultant to BTC-e and was not its owner or operator.
Outstanding Charges in US, Russia
While Vinnik's trial in France is over, he still faces additional charges in the U.S. and Russia tied to his having allegedly created and run the now-defunct BTC-e exchange as an illicit business venture designed to help criminals launder their ill-gotten proceeds.
Vinnik was indicted by a federal grand jury in California in January 2017 for allegedly running BTC-e and helping it to launder $4 billion in bitcoins over several years (see: Feds Indict Russian Over BTC-e Bitcoin Exchange).
A partially redacted, 21-count federal indictment from the U.S. District Court for the Northern District of California, San Francisco Division charges Vinnik with operating an unlicensed money service business, money laundering and related crimes. Federal prosecutors allege that numerous transfers from BTC-e administrator accounts went straight to personal bank accounts registered in Vinnik's name.
If convicted of all of the charges filed against him by the U.S. Justice Department, Vinnik faces a sentence of up to 55 years in federal prison as well as a $12 million fine. But it's not clear if he will be extradited to the U.S. to face those charges.
Police Seize Funds
In June, police in New Zealand confiscated $90 million from a company allegedly owned by Vinnik. Police officials announced that they had seized the money from Canton Business Corp., a New Zealand-based company that Vinnik allegedly owned and used to shelter stolen funds (see: $90 Million Seized in Fraud Case Tied to BTC-e Exchange).