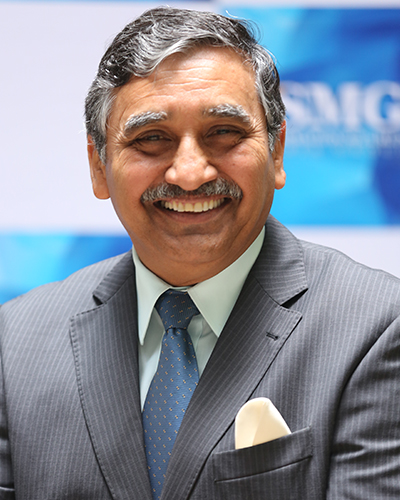 Former General Officer Commanding in Chief, Indian Army, and Present President, Information Security Council of India
Lt Gen Arun Kumar Sahni is a decorated, scholar - soldier, with 40 years of commissioned service in the Indian Army. In his last assignment, tenanting the second highest rank of the army, he was the General Officer Commanding-in-Chief of one of the six operational commands of the Indian Army. He was the General Officer Commanding-in-Chief of one of the six operational commands of the Indian Army.
His experience encompasses command and staff assignments,in India's most inhospitable and conflict affected areas to battle external and internal security challenges. During his four decades of service, he has assumed many roles and duties. In addition to his Command assignments of leading military formations, his important staff appointments include 'Chief Operations Officer' of an Infantry Brigade in Sri Lanka as part of Indian Peace Keeping Force (IPKF), Colonel General Staff responsible for operations of a Counter Insurgency Force in Jammu & Kashmir, 'Principal Staff officer' at Army Headquarters, Delhi, and 'Director General Information Technology'. He has been an Instructor at various Military Institutions within the country to impart basic & specialized training, not only to own officers, but also those from friendly foreign countries.
He has a record of being a high achiever throughout his career, starting with the 'Sword of Honour' and President's Gold medal on commissioning to the Army, in 1976. Among several awards for his exceptional leadership skills and courage, he has been decorated with the second highest medal for peace time gallantry Uttam Yudh Seva Medal, by the President of India. On Republic Day in 2016, he was conferred the coveted Param Vishist Seva Medal, by the President of India, for sustained meritorious service.
Lt. Gen. Sahni has represented India as a military delegate, at UN Headquarters at Geneva for the international conference debating banning of land mines. He has trained with the British Army for a year and represented the country as a military diplomat for three years at Embassy of India, Moscow, Russia. Presently, he is mentoring start-ups/ new initiatives that are in the domain of Information Security and HR Management. An active speaker at seminars and various think tanks within the country, with specific reference to National Security Issues - External and Internal, International and Regional dynamics impacting India, Issues related to Cyber, Force Multipliers and surveillance, Nuances of Counter Terrorist Operations in the North East and J&K, Dynamics of Integration of North Eastern States, Strategic and Visionary Leadership skills/ nuances and Impact of Tactical Nuclear Weapons on South Asian Deterrence Dynamics.