Cybercrime , Fraud Management & Cybercrime , Governance & Risk Management
Assange Sentenced for Bail Jumping; US Extradition Looms
British Judge Sentences WikiLeaks Founder to 50 Weeks in Prison for Violating Bail Conditions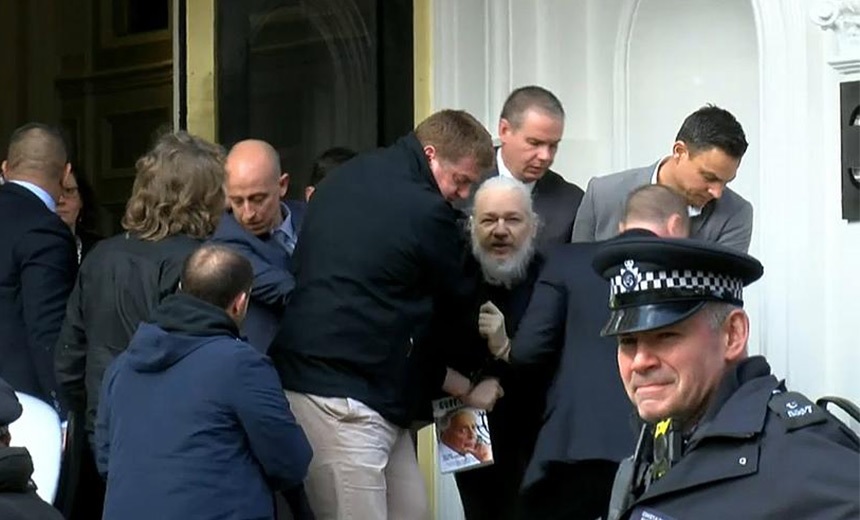 (Editor's Note: See an update on the latest developments.)
See Also: Live Webinar | How To Meet Your Zero Trust Goals Through Advanced Endpoint Strategies
A British judge Wednesday sentenced WikiLeaks founder Julian Assange to 50 weeks in prison for violating the terms of his bail after he sought political asylum in Ecuador's U.K. embassy seven years ago.
Assange's legal problems, however, are only beginning. He's scheduled to face the much larger question of whether he can be extradited to the United States to face a charge of conspiring to hack into the Pentagon's network to help former Army Private Chelsea Manning take classified documents that later appeared on WikiLeaks. An initial extradition hearing is slated for Thursday in a British court, the New York Times reports.
Meanwhile, Sweden has considered reopening its investigation into allegations of sexual assault against Assange, and there's a possibility that he could be extradited back to that country as well. The original investigation related to this case led to Assange seeking asylum in Ecuador's embassy in London while out on bail in 2012 (see: WikiLeaks' Assange: A Nexus of Media, Hacking and Activism).
In April, Ecuador withdrew its asylum protection for Assange, and the Australian native was arrested by British police and taken to jail (see: WikiLeaks' Julian Assange Arrested; US Seeks Extradition).
Assange will have to serve at least half of his prison sentence for the bail violation related to the Swedish case unless he is "subject to the conditions and outcome of any other proceedings," according to the court documents.
Plea for Leniency
Assange wrote Judge Deborah Taylor a letter expressing regret for violating the conditions of his bail. He also asked that his time spent in the Ecuadorian embassy should count toward his prison term, according to court papers.
In her ruling, Taylor noted that Assange's letter is the first time he has ever expressed remorse for skipping bail and violating British law. In addition, the judge noted that Assange cost the U.K. government £16 million ($21 million) over the course of the last seven years for additional security around Ecuador's embassy.
"Whilst you may have had fears as to what may happen to you, nonetheless you had a choice, and the course of action you chose was to commit this offense in the manner and with the features I have already outlined," Taylor wrote in court documents. "In addition, I reject the suggestion that your voluntary residence in the embassy should reduce any sentence. You were not living under prison conditions, and you could have left at any time to face due process with the rights and protections which the legal system in this country provides."
Taylor went on to note: "The seriousness of your offense, having taken into account the mitigation, merits a sentence near the maximum," which is 50 weeks in British prison.
In a message posted on Twitter, WikiLeaks condemned the sentencing and noted that the organization does not believe Assange will receive a fair extradition hearing.
Julian Assange's sentence is as shocking as it is vindictive. We have grave concerns as to whether he will receive a fair extradition hearing in the UK.

— WikiLeaks (@wikileaks) May 1, 2019
Extradition Hearing
Assange will return to court on Thursday for an initial hearing into whether he'll be extradited to the U.S. to face a charge there, according to the New York Times. It's not clear, whether Sweden will pursue charges and try to have Assange extradited there first, the Times reports.
In the U.S., the Justice Department indicted Assange on one charge of "conspiracy to commit computer intrusion for agreeing to break a password to a classified U.S. government computer." If convicted, he could face up to five years in federal prison.
The U.S. indictment stems from a 2010 incident that eventually led to the publication of classified material about the Iraq war, including one video that showed an Apache helicopter strike that killed a Reuters journalist working in Iraq.
WikiLeaks disseminated stolen emails from the Democratic National Committee and the Hillary Clinton presidential campaign in 2016, but Assange has not been charged in connection with that incident. It's believed that Russian intelligence agents provided the emails to WikiLeaks to damage the Clinton campaign and help Donald Trump win the presidency that year, according to a report prepared by Special Counsel Robert Mueller (see: Mueller Report: With Russian Hacking Laid Bare, What Next?).