Cybercrime , Fraud Management & Cybercrime , Legislation & Litigation
Assange Extradition Hearing Won't Occur Until February
U.S. Wants WikiLeaks Founder Extradited for Espionage Trial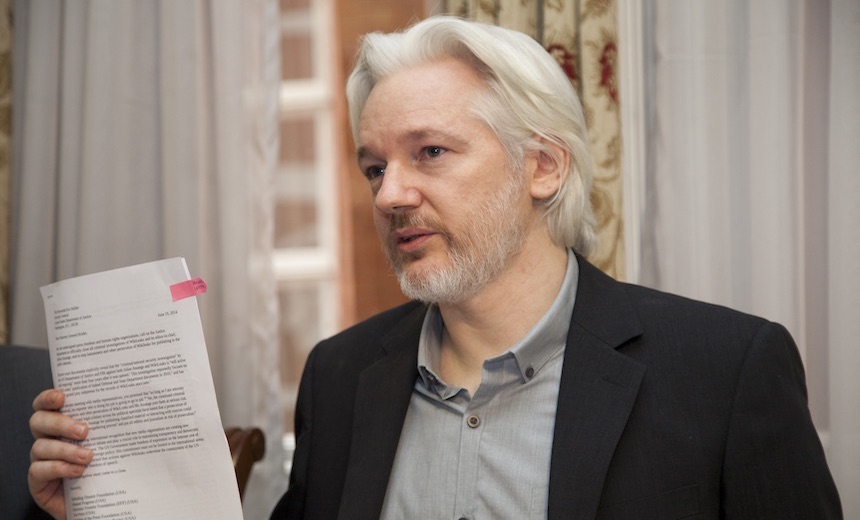 A British judge has determined that an extradition hearing for WikiLeaks founder Julian Assange won't be held until next February. He faces an 18-count indictment in the U.S. for violations of the Espionage Act.
See Also: Live Webinar | How To Meet Your Zero Trust Goals Through Advanced Endpoint Strategies
The hearing, slated to begin Feb. 25, 2020, is expected to last five days, according to Chief Magistrate Emma Arbuthnot of the Westminster Magistrates' Court, who ordered the hearing on Friday, a spokesperson for the U.K. court system said.
The 47-year-old Assange remains in custody in the U.K.
The judge's order comes a day after U.K. Home Secretary Sajid Javid told the BBC that he signed and certified the request by the U.S. Justice Department to extradite Assange to America to face changes there under the U.S. Espionage Act (see: Assange Indicted in US Under Espionage Act).
The British Home Office handles all immigration, security and law enforcement for the U.K. By certifying the U.S. request, Javid essentially paved the way for the judge to schedule the 2020 extradition trial date, according to the BBC.
Appearing in court on Friday through a video link, Assange signaled that he intends to fight extradition for as long as needed since "175 years of my life is effectively at stake," according to the BBC. He also defended WikiLeaks, comparing the site to other publishing firms, the BBC reported (see: WikiLeaks' Assange: A Nexus of Media, Hacking and Activism).
U.S. Charges
In May, the U.S. Justice Department unsealed an 18-court superseding indictment against Assange, charging him with violating the U.S. Espionage Act.
In that indictment, federal prosecutors allege that starting in 2009, Assange and WikiLeaks began asking individuals to provide classified information from the U.S. government. This included publishing a list of "Most Wanted Leaks."
In late 2009 and early 2010, former Army Private Chelsea Manning provided much of that material, including databases and other files and documents that contained 90,000 Afghanistan war-related significant activity reports, 400,000 Iraq war-related significant activities reports, 800 Guantanamo Bay detainee assessment briefs, and 250,000 U.S. Department of State cables, according to the Justice Department.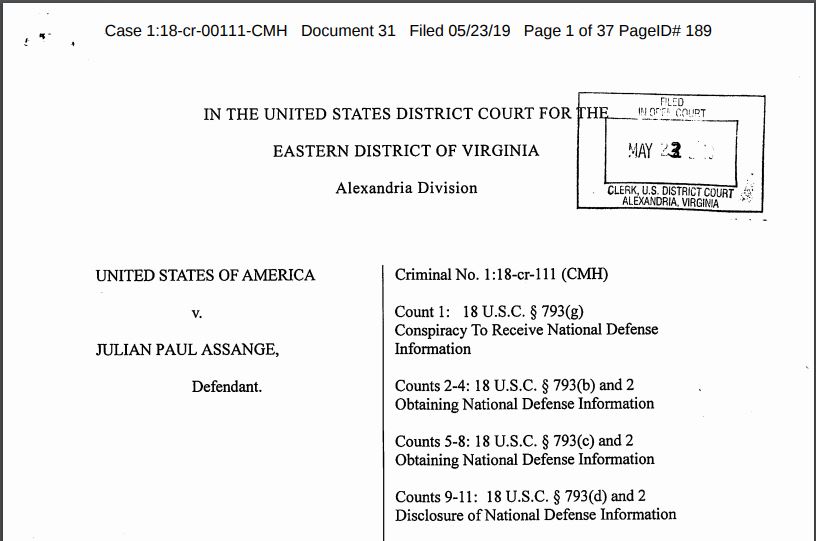 The 18-count indictment against Julian Assange
Federal prosecutors allege Assange and Manning conspired to break into various computer systems, including the Pentagon's network, to steal the classified documents that were later published on WikiLeaks. Assange allegedly helped Manning crack a password hash to gain access to the Secret Internet Protocol Network - the network the U.S. uses for classified documents and communications, according to the indictment.
Most of these documents were classified on the "secret" level, "meaning that their unauthorized disclosure could cause serious damage to United States national security," the U.S. Justice Department says.
In court on Friday, Ben Brandon, who is representing the Justice Department in the U.K., said that the case represents "one of the largest compromises of confidential information in the history of the United States," according to the BBC.
Assange and his attorneys have always portrayed WikiLeaks as a publishing firm with the same First Amendment rights that newspapers and broadcasters have to publish secret material that the government does not want made public.
Mark Summers, one of Assange's attorneys, said on Friday there is a "multiplicity of profound issues" in the extradition case, according to the BBC.
Assange's extradition hearing is now at 11 am in court 3 at Westminster Magistrates Court. pic.twitter.com/QXMb8YLL3S

— WikiLeaks (@wikileaks) June 14, 2019
If Assange is extradited to the U.S., his trial is likely to hinge on the issue of whether his publishing of classified documents is an act of espionage or a protected right under the First Amendment, some legal experts say. But another key issue is whether Assange played a key role in breaking into government systems.
Other Legal Trouble
On April 11, British police removed Assange from Ecuador's London embassy after Ecuador withdrew its asylum protection for the WikiLeaks founder. He then received a 50-week prison sentence in the U.K. for violating the conditions of his bail in a separate Swedish sexual assault case.
Since his removal from the embassy, prosecutors in Sweden have signaled that they plan to reopen a case involving sexual assault charges against Assange. This case, dating back to 2010, is what caused Assange to seek asylum in the Ecuador's London embassy for seven years.
It's possible that the U.K. could extradite Assange to Sweden first, legal experts say.