Encryption & Key Management , Forensics , Governance & Risk Management
Apple Blasts Judge's iPhone Backdoor Order
Government Wants Apple to "Hack Our Own Users," CEO Tim Cook Warns
Apple CEO Tim Cook has blasted a U.S. federal judge's Feb. 16 order compelling Apple to help bypass the encryption on an iPhone 5C seized by the FBI. Cook says Apple will oppose the "dangerous" order, and he's called for a vigorous, public debate on the subject.
See Also: Live Webinar | Cyber Resilience: Recovering from a Ransomware Attack
The iPhone in question was used by Syed Rizwan Farook, who together with his wife Tashfeen Malik committed the December 2015 shootings in San Bernardino, Calif., that left 14 people dead. Farook's phone - recovered from a car in the aftermath of the attacks, and the couple dying in a gun battle with police - is owned by his employer, San Bernardino County, which consented to the FBI's search.
In a letter posted to Apple's website Feb. 17, Cook says Apple was "shocked and outraged" by the attacks. "We have no sympathy for terrorists," he adds, noting that Apple has readily furnished all related information that is in its possession to the FBI.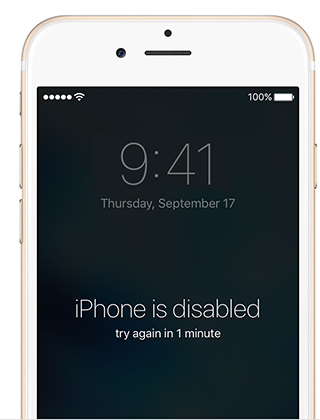 Apple iOS includes defenses against attempting to brute-force passcodes.
But the bureau wants more: specifically, the capability to disable the anti-brute-force login features now built into iOS. The FBI says the iPhone in question is passcode-protected, and it doesn't know if the auto-erase feature has been enabled, which would wipe the device's memory after 10 failed passcode login attempts. Even if the feature isn't enabled, iOS introduces passcode entry delays after six or more failed attempts.
Apple has estimated that entering all potential passcode combinations that mix numbers and lowercase letters would require 5.5 years.
Accordingly, U.S. Magistrate Judge Sheri Pym's order instructs Apple to provide the FBI with three capabilities: to disable the iOS auto-erase function; enable the FBI to submit passcodes to the device electronically, rather than having to do it manually; and to disable passcode-entry delays.
To do that, she says Apple doesn't have to modify iOS, but can create an Apple-signed "iPhone software file, recovery bundle, or other Software Image File ("SIF") that can be loaded onto the subject device," at either an Apple or FBI facility.
Only Apple-signed software is allowed to execute on iOS devices. "This signature check is why the FBI cannot load new software onto an iPhone on their own - the FBI does not have the secret keys that Apple uses to sign firmware," says Dan Guido, CEO of security research firm Trail of Bits, in a Feb. 17 blog post. That's why the bureau needs Apple's help to create the "FBiOS" the bureau is seeking.
Guido adds that the software-based workaround the FBI wants wouldn't work on newer devices that use the TouchID sensor and Secure Enclave feature, which implements crypto at the hardware level.
Apple Sounds Backdoor Alert
Cook says the judge's order amounts to nothing less than compelling Apple to give governments on-demand backdoors (see Crypto Review: Backdoors Won't Help). "The FBI may use different words to describe this tool, but make no mistake: Building a version of iOS that bypasses security in this way would undeniably create a backdoor. And while the government may argue that its use would be limited to this case, there is no way to guarantee such control."
Once Apple goes down this path, furthermore, he suggests that any government would then have the ability to compel Apple to unlock anyone's iPhone, and that criminals or adversaries could potentially hack into anyone's device. "In the wrong hands, this software - which does not exist today - would have the potential to unlock any iPhone in someone's physical possession," Cook says.
The FBI didn't immediately respond to a request for comment on the judge's ruling in the case, as well as Cook's letter, including his assertion that the FBI wants Apple to build a backdoored version of iOS.
Expert: 'Insanely Bad' Precedent
Nicholas Weaver, a researcher at the International Computer Science Institute and the University of California at Berkeley, says via Twitter that Apple is fighting the order "tooth and nail" for good reason: if the case stands, the precedent it sets "would be insanely bad."
Weaver says Silicon Valley is especially wary of backdoors because of the way that the National Security Agency collects data, under section 702 of the Foreign Intelligence Surveillance Act Amendments Act, which authorizes the agency to conduct surveillance on foreign intelligence targets (see Report: NSA Expanded Internet Spying). According to civil rights group Electronic Frontier Foundation, the NSA also shares intelligence with some foreign intelligence agencies, such as Britain's GCHQ.
And if they backdoor for NSA, they lose a ton of business since "foreign intelligence" is very broad.

� Nicholas Weaver (@ncweaver) February 17, 2016
Cook: 'Consider the Implications'
Apple's Cook likewise says the move to create iOS backdoors sets a dangerous precedent. "We are challenging the FBI's demands with the deepest respect for American democracy and a love of our country. We believe it would be in the best interest of everyone to step back and consider the implications," Cook says.
"While we believe the FBI's intentions are good, it would be wrong for the government to force us to build a backdoor into our products," he adds. "And ultimately, we fear that this demand would undermine the very freedoms and liberty our government is meant to protect."
Apple won't be fighting its corner alone. EFF, for starters, says it will file an amicus brief in support of Apple. "Encryption is incredibly important and backdoors harm us all," EFF staff attorney Nate Cardozo says via Twitter. Similarly, Greg Nojeim at the Center for Democracy & Technology, another civil rights group that says it is backing Apple, questions the government citing a law that was adopted in 1789 to force Apple to backdoor iOS.
Advanced Surveillance Capabilities
The U.S. government's demand that Apple decrypt the iPhone in question belies the unprecedented surveillance - and investigatory - capabilities now available to law enforcement and intelligence agencies, says information security consultant William Murray, who teaches at the U.S. Naval Postgraduate School.
"Even without backdoors, the investigative capability of law enforcement, not to mention the surveillance capability of the nation state, is orders of magnitude greater than anything they might have hoped for as recently as a decade ago," Murray says. "They are never satisfied. With all their new-found power, they still resent the tiny shield left to the citizen."