Encryption & Key Management , Enterprise Mobility Management / BYOD , Governance & Risk Management
Apple Accuses DoJ of Constitutional, Technical Ignorance
Technology Giant Says U.S. Founders 'Would Be Appalled' by FBI's Moves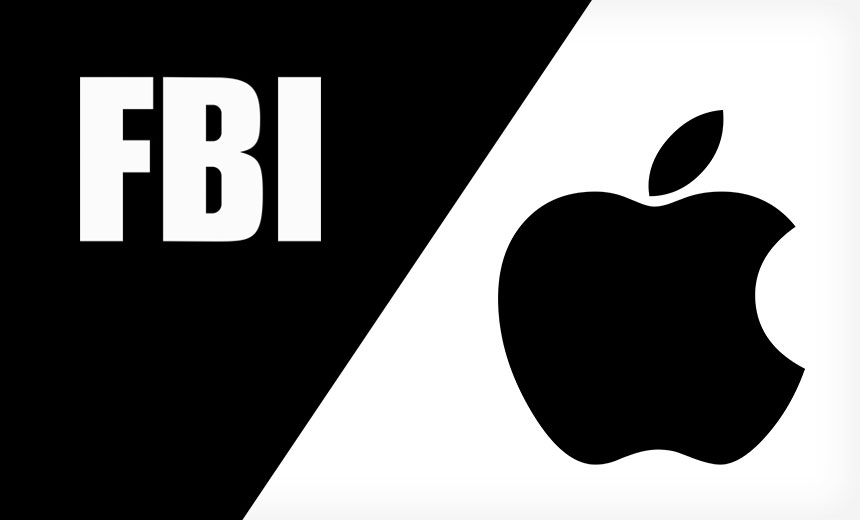 Apple has unloaded another blistering legal response to the Justice Department over the court order obtained by the FBI that requires Apple to help it unlock an iPhone 5C used by San Bernardino shooter Syed Rizwan Farook.
See Also: Live Webinar | Cyber Resilience: Recovering from a Ransomware Attack
In its March 15 filing, Apple accuses the Justice Department of technical ignorance. It also dismisses the government's claim that this case - and its legal ramifications - are about just one device and not an attempt to set a new legal precedent. Finally, it accuses the Justice Department of either seeking to violate or else failing to understand the Constitution.
"According to the government, short of kidnapping or breaking an express law, the courts can order private parties to do virtually anything the Justice Department and FBI can dream up," Apple says. "The founders would be appalled."
Apple's filing is just the latest in a series of court documents filed by the company and the Justice Department, arguing their respective legal positions, since U.S. Magistrate Judge Sheri Pym ordered Apple on Feb. 16 to assist the FBI in bypassing security features built into an iPhone used by one of the San Bernardino shooters.
Apple CEO Tim Cook has vowed that his company will fight the order, likening the request to build a backdoored version of iOS to being "the software equivalent of cancer," and saying it would "[set] a dangerous precedent that threatens everyone's civil liberties." Legal experts say it may take several years for the case to be resolved in the courts.
War of Words Escalates Further
Meanwhile, the war of words - both inside and outside the courtroom - has continued to escalate.
In its court filings, U.S. Attorney Eileen M. Decker's office, which is spearheading the government's efforts, has accused Apple of putting marketing before the law. Attorney General Loretta E. Lynch also appeared at this month's RSA Conference to argue that the Justice Department must be able to "fully investigate" crimes, and to rhetorically ask if one company, "no matter how beautiful their devices," should be allowed to decide this debate (see Highlights of RSA Conference Crypto Debate).
Similarly, President Obama, speaking at last week's South by Southwest Conference - while saying he couldn't comment on this particular case - criticized anyone who took an "absolutist view" on crypto for "fetishizing our phones above every other value" (see Security Experts Slam Obama's Crypto Smackdown).
What Do Search Warrants Do?
But Apple has continued to fire back. In its latest court filing, the company says the FBI is attempting to use a search warrant inappropriately as a legal magic wand. "The government ... contends that because this court issued a valid search warrant, it can order innocent third parties to provide any service the government deems 'necessary' or 'appropriate' to accomplish the search," Apple's filing says.
The Justice Department has used the 1789 All Writs Act to argue that a court can order Apple to assist the FBI. But the government's reading of the statute "is an exercise in wishful thinking," Apple argues in its filing. "The government has not pointed to any writ available at common law that would require a private non-party to perform burdensome forensics work, create new software, or compel speech to assist law enforcement."
Apple also argues that the Justice Department's contention that this case is only about a single phone - and not an attempt to create a precedent - belies FBI Director James Comey's recent testimony to Congress, in which he told legislators: "The broader question we're talking about here goes far beyond phones or far beyond any case." As a result, Apple argues that the court must see the FBI's request in a broader context and understand the "security and privacy" ramifications that any ruling might have.
Apple: Order Violates CALEA
Apple also claims that via the court order, the FBI is attempting to do an end run around Congress, which has chosen to not update the 1994 Communications Assistance for Law Enforcement Act, known as CALEA.
"CALEA prohibits law enforcement agencies from requiring 'electronic communication service' providers to adopt 'any specific design of equipment, facilities, services, features, or system configurations,'" Apple says in its filing. The company notes that it defines itself, broadly, as an "electronic communication service" provider "because Apple's software allows users to 'send or receive ... communications.'"
Apple also notes: "The Justice Department and FBI are seeking an order from this court that would force Apple to create exactly the kind of operating system that Congress has thus far refused to require. They are asking this court to resolve a policy and political issue that is dividing various agencies of the executive branch as well as Congress. This court should reject that request, because the All Writs Act does not authorize such relief, and the Constitution forbids it."
Anti-Crypto Legal Battle?
Some legal experts believe that the Justice Department had been carefully preparing an anti-crypto legal battle for months and decided that the San Bernardino iPhone case was the right time to make its move.
Yet members of the Obama administration appears to be divided on the issue. Notably, U.S. Secretary of Defense Ashton Carter, appearing at the RSA Conference, dismissed any attempt to add backdoors to products as being "not realistic and it's not technically accurate." He also warned against attempting to craft a law "written in an atmosphere of anger or grief," cautioning that the result is "not likely to be the right answer." Many former administration officials have also spoken out against the FBI's move.
Leading technology, cryptography, security and privacy experts, as well as companies including Facebook, Google and Microsoft, have also backed Apple. Some have filed friend-of-the-court briefs.
Under Fire: FBI's Technical Acumen
Of course, it remains far from certain who will prevail in the court battle. But the back-and-forth fracas reveals that whatever the legal arguments in this case, the Justice Department may be out of its depth, at least technologically speaking, says digital forensic scientist Jonathan Zdziarski, author of "iPhone Forensics," in a blog post.
For starters, many security experts believe that the FBI mishandled Farook's phone after it had been seized, thus losing the ability to easily unlock it. In addition, one February filing from Apple included testimony from Erik Neuenschwander, manager of user privacy at Apple, who "debunked a number of [technology] statements made by the FBI's examiners, and effectively schooled the FBI in iOS with the humility of a Genius Bar employee," Zdziarski says.
Apple simultaneously cited case law, and took a pot shot at Comey's lack of technical understanding. So beautiful. pic.twitter.com/HajLJT1hbI

� Jonathan Ździarski (@JZdziarski) March 16, 2016
The next hearing in the case before Judge Pym is scheduled for March 22.