Anonymous Targets World Cup
Attacks Hit Government, Corporate Sites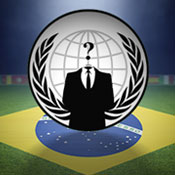 The loose collective of hacktivists known as Anonymous is taking aim at the 2014 World Cup, waging attacks that are making government websites in Brazil, as well as the sites of corporate sponsors of the event, inaccessible.
See Also: Live Webinar | Remote Employees & the Great Resignation: How Are You Managing Insider Threats?
Brazil's official website for the World Cup was offline June 12, with members of Anonymous claiming responsibility for the attack on Twitter.
Security firm Symantec, in a June 11 blog post, highlighted the threat Anonymous posed to the World Cup. "The hacker group is preparing cyber-attacks on corporate sponsors of the World Cup in Brazil to protest the spending of money on soccer games instead of public services," Symantec says.
Anonymous hackers told Reuters on June 11 that they have taken down several Brazilian websites linked to the tournament, including car manufacturer Hyundai, a state government and Brazil's intelligence agency.
"Companies and institutions that work with a government that denies the basic rights of its people in order to promote a private, exclusive and corrupt sports event will be targeted," a representative for the group told Reuters.
The operation is known by the hashtags #OpHackingCup, #OpWorldCup and #OpMundial2014 on Twitter. An infographic published on Twitter lists the websites allegedly impacted by Anonymous.
Anonymous, in a press release detailing the operation, says it's pursuing attacks against the government of Brazil because of their "corruption and actions against the people."
Mitigating the Threat
Symantec recommends that organizations use a layered approach to securing their environment from the attack. "Deploy network intrusion detection/prevention systems to monitor network traffic for malicious activity," the company says. "Ensure all Web servers are patched, configured to minimize the impact of DDoS [distributed-denial-of-service] attacks, and hardened against external threats."
Additionally, organizations should use Web application firewalls as a front-line defense against attacks, Symantec says. "Ensure your IT and IT security staff are prepared and know what they need to do in the event of attack."
Al Pascual, a security and fraud analyst at Javelin Strategy and Research, notes: "Many of the larger sponsors may already be able to absorb the effects of a DDoS attack, but smaller sponsors could benefit from overprovisioning of bandwidth as a temporary solution. The best thing these sponsors can do is to be prepared, and to avoid giving any public recognition of Anonymous should their sites go down temporarily."