Data Loss Prevention (DLP) , Incident & Breach Response , Managed Detection & Response (MDR)
Alleged Yahoo Hacker-For-Hire: Plea Reports Are Premature
Attorney Dismisses Reports That Karim Baratov Will Plead Guilty to Some Charges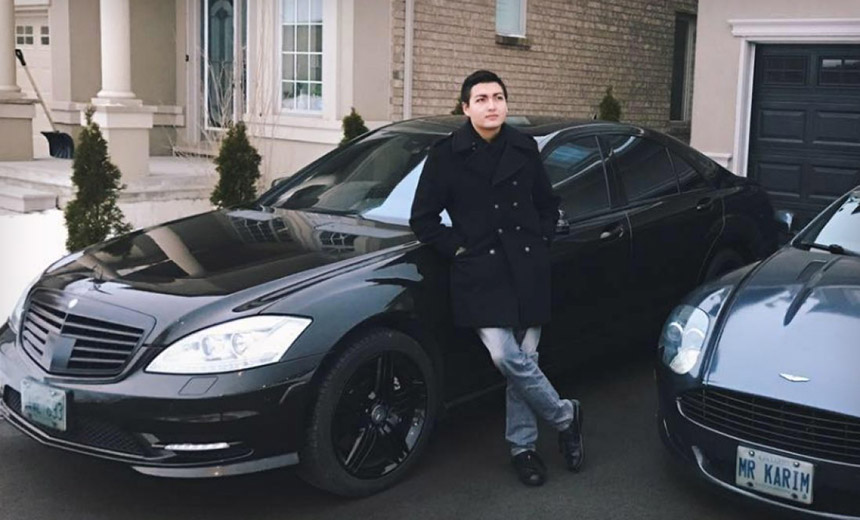 Reports of a plea deal for a man who's been extradited from Canada to the United States on charges that he assisted in a massive hack of Yahoo in 2014 are premature, his attorney tells Information Security Media Group.
See Also: Live Webinar | Navigating the Difficulties of Patching OT
Karim Baratov, 22, was one of four men named in a 47-count U.S. federal indictment, dated Feb. 28 and unsealed March 15. The indictment charges the suspects with computer hacking, economic espionage and other criminal offenses tied in part to the massive 2014 mega-breach of Yahoo.
Baratov was arrested in Ontario on March 14 and extradited in August after waiving his right to an extradition hearing. After arriving in the United States, Baratov waived his U.S. bail hearing, meaning he's remained in custody. His lead attorney, Toronto-based Amedeo DiCarlo, told ISMG in August that his client was eager to fight the charges filed against him (see Accused 'Hacker for Hire' for Russia Pleads Not Guilty).
On Friday, multiple media reports said that Baratov, a dual Canadian-Kazakh national, was expected to plead guilty to some charges on Tuesday. Some of those reports were stoked by a calendar entry listing a Tuesday "change of plea hearing" for his case on the website for the U.S. District Court for the Northern District of California.
But the latest official update on the case occurred on Oct. 23. Citing ongoing discussions aimed at reaching a plea deal, both the defense and prosecution teams petitioned the court for a temporary exemption to the Speedy Trial Act. That law requires that a defendant be brought to trial within 70 days of the date on which they were indicted or arraigned - whichever is later. Otherwise, the indictment must be dismissed.
"Since the initial status conference on Aug. 29, 2017, the parties have been meeting and conferring, and believe that the requested additional time would be helpful, to determine whether a pre-trial resolution is possible," according to the motion.
U.S. District Court Judge Vince Chhabria approved their request, rescheduling Baratov's next courtroom appearance from Oct. 24 to Nov. 28.
Negotiations Underway
Attorney Amedeo DiCarlo, who's been leading his client's U.S. defense team, consisting of Andrew Mancilla and Robert Fantone, tells ISMG that everyone involved in the case has been "given strict orders by the court and USA government not to release any information from those discussions."
DiCarlo said that the next hearing for Baratov, scheduled for Tuesday in San Francisco federal court, would provide an update on the case. But he said discussing anything further was premature.
The U.S. Attorney's Office did not immediately respond to a request for comment.
The request to put Speedy Trial requirements on hold is not unusual in cases involving alleged computer crimes, experts say, given their typical complexity (see Case Against Marcus 'MalwareTech' Hutchins Gets 'Complex' ).
Indeed, the Oct. 23 motion stated that "defense counsel is continuing to review the discovery provided by the United States, including the approximately 39 GB of discovery under the Protective Order that the United States provided on Sept. 21."
Accused 'Hacker For Hire'
Prosecutors have accused Baratov of being a "hacker for hire" who helped Russian intelligence agents accused of hacking 500 million Yahoo users' accounts in 2014. Baratov has pleaded not guilty to charges that he used spear-phishing attacks to obtain the webmail passwords for at least 80 individuals.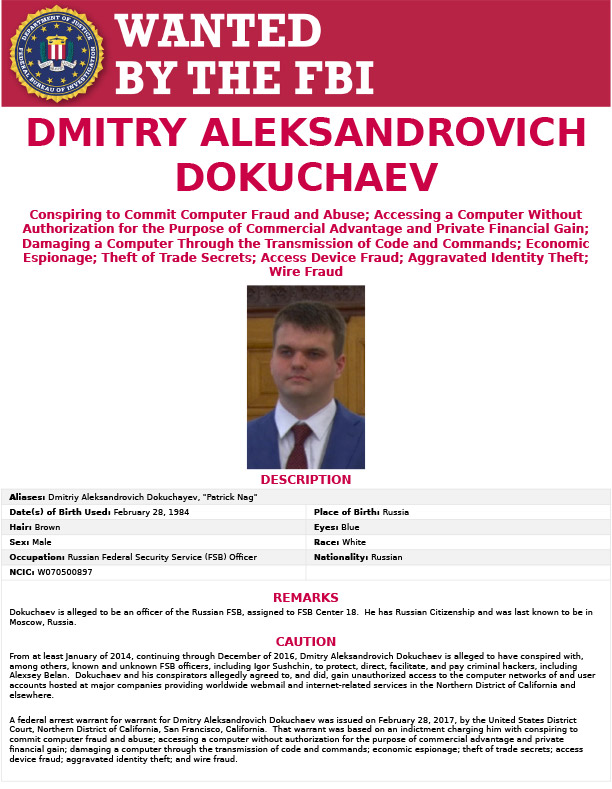 Dmitry Dokuchaev is on the FBI's "Cyber Most Wanted" list.
Baratov has been accused of working for Dmitry Dokuchaev, 33, an officer at Russia's Federal Security Service, or FSB, and his superior, Igor Sushchin, 43, who allegedly posed as the head of information security for a Russian investment bank (see Outsourcing Cyber Espionage Landed Russia in Trouble).
As part of the case, a fourth man, Alexsey Belan, a 29-year-old Russian citizen who was born in Latvia, has also been charged. He is believed to be in Russia.
Experts say it's unlikely that any of the other three defendants will ever stand trial in a U.S. courtroom, provided they do not travel to a country that has an extradition treaty with the United States (see Hackers' Vacation Plans in Disarray After Prague Arrest).
Russia has never extradited a cybercrime suspect to the United States.