16,000 Affected by Theft of 19 Computers
Calif. Physician Group Notifies Patients of Breach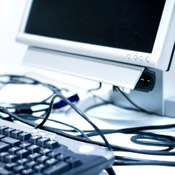 A California physician group practice has notified nearly 16,000 patients of a health information breach stemming from the theft of 19 new computers from clinics in Pasadena and Long Beach.

Healthcare Partners is cooperating with local police on the investigation of the theft that occurred in April. Patient information stored on the computers included names, addresses, birth dates, medical record numbers, health plan ID numbers, diagnoses and other health information.

The practice is offering affected patients a year's worth of free identity protection service. The practice says it believes the risk of harm to patients is low because investigations by police and the practice "indicate that the items likely were stolen for their monetary value and not the information on them," the organization said in a website statement.

"HealthCare Partners will take additional steps to protect the privacy and security of its patients' health information against physical theft as occurred in this incident," according to the statement.

The HITECH Act breach notification rule requires notification of patients, as well as the Department of Health and Human Services' Office for Civil Rights, about security incidents, including thefts of computers containing unencrypted patient information.