12 Charged in Toronto Skimming Scam
International Ties Suspected in ATM, Pay-at-the-Pump Fraud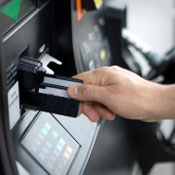 Canadian police have arrested 12 suspects linked to a $300,000 payment card-skimming scheme that targeted ATMs and pay-at-the-pump gasoline terminals in Greater Toronto.
See Also: Live Webinar | Generative AI: Myths, Realities and Practical Use Cases
On Feb. 3, investigators with Ontario, Canada's Halton Regional Police Service, Durham Regional Police, Ontario Provincial Police, Toronto Police, York Regional Police and the Provincial Asset Forfeiture Unit charged the 12 suspects with multiple charges, including conspiracy, participation in organized crime and fraud exceeding $5,000.
According to a statement issued by Halton Police, when investigators raided the suspects' homes, they found more than CAD $40,000, several fake credit cards and three vehicles. Police also discovered equipment and tools allegedly used to manufacture cloned debit and credit created from skimmed card details collected at banks and gas stations.
Arrested and charged with "Fraud Over $5000" and "Conspiracy to Commit Indictable Offence, Participation in Criminal Organization" were: Dmitri Chalenko, Dennis Glukhov, Viacheslav Glukhov, Vadim Glukhov, Alla Glukhov, Makar Tchirkov, Matvey Tchirkov, Janesmathan Vilvarajah, Rishan Thayalachelvam and Geevan Negendran.
Viatcheslav Shevelev and Maksym Gaiderov were charged with "Fraud Over $5000," "Conspiracy to Commit Indictable Offence, Participation in Criminal Organization, Instrument for use in Forging Credit Cards" (two counts) and "Possession of Credit Card Data" (two counts).
Though investigators did not release any details about the suspects' nationality or citizenship, experts say there's little doubt the scheme involved some level of international organization, likely from crime rings. Increasingly, international rings are being linked to payments fraud, especially skimming.
"It seems this organized crime family is actually a family," says fraud and identity theft consultant Robert Siciliano.
Cross-Border Challenge
Most of the 12 suspects arrested in Toronto are linked to eastern Europe, a part of the world known for the origination of ATM skimming crimes. Fighting cross-border fraud poses challenges, but international cooperation has helped the plight.
In fact, law enforcement agencies, especially in North America, often face more challenging battles when it comes to fraud within and across interstate borders.
"Canada's provinces make it a bit easier," Siciliano says. "It's when entire countries need to be on the same page that it becomes difficult. And over the past few years, even Romania has helped international law-enforcement agencies." [See Global Card Fraud Scheme Grows.]
Once Canada's migration to the Europay, MasterCard, Visa chip standard is completed in 2015, skimming incidents like this one in Toronto will only occur in markets where the magnetic stripe remains dominant.
Increasing incidents of card fraud, especially skimming, have pushed Visa and MasterCard to set short-term goals for global EMV compliance. Visa has set April 2013 and October 2015 as benchmark dates for U.S. card issuers and acquirers. MasterCard also has set an April 2013 EMV-compliance deadline for all U.S. ATMs.
"As long as magnetic-striped cards are accepted, there will be money to be made," Siciliano says.