1,000 Abortion Records Found in Trash
Former Physician Admits to Improperly Discarding Documents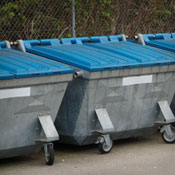 Law enforcement officials are conducting an investigation following the discovery of more than 1,000 abortion records in a recycling bin in front of an elementary school in Overland Park, Kan.
See Also: Now OnDemand | C-Suite Round-up: Connecting the Dots Between OT and Identity
The breach incident included records containing women's names, birth dates, telephone numbers, Social Security numbers and emergency family contacts, according to the Kansas City Star newspaper. The newspaper was contacted by the daughter of an Overland Park resident who discovered the records when discarding her recycling.
Other sensitive information in the records included patient health history, number of children, the term of the pregnancy and previous abortions, if any, along with fees paid for the procedures.
The records belonged to a now-defunct clinic, Affordable Medical and Surgical Services, run by then-physician Krishna Rajanna, the newspaper reported.
The woman who discovered the records called Overland Park police, who did not respond initially, the newspaper reports. She then called her daughter, a 45-year-old nurse, who contacted the newspaper. A reporter for the newspaper then took the records and kept them under lock and key.
The records also had labels indicating whether patients were minors. Other notes on the reports stated that patients had "changed mind" or that they were "too far" along in their pregnancies, the newspaper reports.
Investigation Begins
Eventually, the Overland Park police explained that they made an error in not immediately responding to the resident's call, according to the newspaper. The police, the Johnson County district attorney's office and the Kansas Board of Healing Arts are conducting investigations.
Johnson County District Attorney Steve Howe told the Huffington Post that he doesn't expect to pursue a criminal case against Rajanna. Howe said his office will examine whether Rajanna's actions violated state consumer protection laws, which are enforced through civil lawsuits, and it may contact federal officials about potential violations of HIPAA rules.
Improper Disposal
Rajanna told the newspaper during a telephone interview that he threw away the stacks of personal documents he had kept in his home, which is located a few blocks away from the school.
"I was under the impression that these would not be seen by anyone," said Rajanna, who lost his medical license in 2005, the year the clinic closed. "I thought that these would be recycled away just like any other papers."
Rajanna had been fined and disciplined four times between 2000 and 2005 by the Kansas Board of Healing Arts for having an unclean facility and syringes of medication kept in an unlocked refrigerator, the newspaper reports
Kansas law requires all medical records be kept for a minimum of ten years, the newspaper reports, but hundreds of the discarded records were less than 10 years old, dated after March 2002.